Sunday, May 21, 2023 at 5pm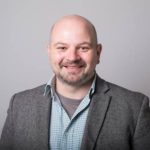 Dr Deaglán Ó Donghaile, Reader in Late Victorian Literature and Culture at Liverpool John Moores University will present a talk entitled "Wilde in The Wasp: Oscar Wilde and Gilded Age Racism in San Francisco". This talk will take place on Sunday May 21, 2023 at 5pm PST both in-person – St. Francis Room, United Irish Cultural Center, 45th Ave and Sloat Blvd., San Francisco, and on Zoom – link below.
During his 1882 lecture tour of the United States Oscar Wilde was criticised and lampooned in The Wasp, a racist satirical magazine edited by Ambrose Bierce and published in San Francisco. Wilde was repeatedly portrayed in the magazine's cover and centrefold cartoons as a beast-like and degenerate figure who threatened to destabilise the city's moral and political values and threaten the national integrity of the United States.
These prejudiced depictions of Wilde appeared in the magazine alongside hostile representations of African Americans, Chinese immigrants, Irish workers, and LGBTQ people. Drawing on a selection of these images, this talk will explore his inclusion within this broad range of perceived threats to the political, cultural, and sexual stability of Gilded Age San Francisco. It will also discuss Wilde's admiration for the Bay Area's Chinese community and his fascination with their cultural creativity to explain how, within this context, he expressed his own anti-imperial views to city's Irish community.
Biographical Note
Originally from Derry, Ireland, Deaglán Ó Donghaile is Reader in Late Victorian Literature and Culture at Liverpool John Moores University. His research interest is in the intersection between literature, politics, and culture. He is the author of the books Oscar Wilde and the Radical Politics of the Fin de Siècle (2020) and Blasted Literature: Victorian Political Fiction and the Shock of Modernism (2011), both published by Edinburgh University Press. From 2021-22 he was a British Academy Research Fellow. He is currently writing a book on Oscar Wilde's visit to San Francisco Bay Area, entitled Wilde in The Wasp, and a political biography entitled Revolutionary Wilde.
This talk will take place on Sunday May 21, 2023 at 5pm PST both in-person – St. Francis Room, United Irish Cultural Center, 45th Ave and Sloat Blvd., San Francisco, and on Zoom – link below:
Join Zoom Meeting
https://us02web.zoom.us/j/81224808667
Meeting ID: 812 2480 8667