Sunday February 24, 2019 –  Evelyn Rose on Pioneering Aviator Daniel Maloney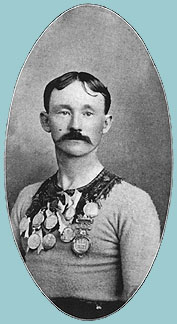 Evelyn Rose, Project Director and Founder of the Glen Park Neighborhoods History Project, will share the amazing life story of Irish American San Francisco aviation pioneer Daniel John Maloney, ancestor of a well-known family in Noe Valley, who began his career as an aeronaut performing at the pleasuring grounds known as Glen Park and the Mission Zoo.
We'll learn more about Maloney's transition from Victorian extreme sport athlete to test pilot in the early days of flight discovery. We'll also be introduced to Professor John J. Montgomery of Santa Clara College (today's Santa Clara University), a graduate of San Francisco's St. Ignatius College. Montgomery's flight innovations and achievements have largely been erased from mainstream history, primarily through the gaslighting efforts by no less than the Wright Brothers and their supporters.
Evelyn Rose, PharmD, moved to San Francisco in 1978 and has been a resident of Glen Park and Diamond Heights in the heart of the City for nearly 30 years. Her interest in historic research began 20 years ago while investigating the life story of two sisters buried in the 1880s on a barren, wind-swept hill in Yellowstone National Park.  
Evelyn founded the Glen Park Neighborhoods History Project (GPNHP, www.GlenParkHistory.org) in 2014, covering Glen Park, Glen Canyon Park, Sunnyside, Fairmount Heights, and Diamond Heights.  Evelyn serves as Project Director of the GPNHP and continues to research the forgotten histories of the district. 
This event will take place on Sunday, February 24 at 5pm at the United Irish Cultural Center, 45th Avenue and Sloat Blvd.
The event is free for members and $5 for non-members.
---
Sunday, March 10 – Celebrating the Irish Diaspora of Australia
Mairéid Sullivan, author, singer/song writer and historian–
West Cork born, San Francisco raised, and Australian citizen
Mairéid Sullivan will present the storied Irish diaspora of Australia at a luncheon event at the Hotel Marker, Bellevue Ballroom, 501 Geary Street in San Francisco on Sunday, March 10 at 1 pm.
Mairéid was born on a farm in the Bantry township, West Cork, Ireland, the first of seven children. Her father was a master horseman and a fine Irish tenor. Her mother, a health practitioner, taught her traditional Irish songs. She came to San Francisco with her family at age 12 and in 1967 was crowned San Francisco's Miss Ireland by Supervisor Leo McCarthy. At 20, she moved to Australia. She has been singing traditional Irish songs since early childhood, and many of her original songs celebrate humanity's heritage of joy –particularly as reflected in Irish Celtic culture.
"The late 1800s and turn-of-the century connections across Ireland, San Francisco, New York and Melbourne to Canberra changed history!" says Mairéid "Australian-Irish are passionate about every aspect of their history."
Mairéid's 1995 CD, Dancer catapulted her onto the USA and Canada stage as the World Music/Celtic genre took off. This led to her acclaimed book Celtic Women in Music. Mairéid will tell her story in word and song.
The ILHS is a community of people in pursuit of knowledge of the best in Irish and Irish American literature and history studies. We have presented a broad range of fascinating speakers from the heights of literature and academia as well as some of the finest lay scholars in the field while supporting and celebrating Irish studies for more than 70 years in the Bay Area.
___________________________________________________________________________
WHAT: Irish Literary & Historical St Patrick's Season Event:
"Irish in Australia with Mairéid Sullivan"
WHEN: Sunday, March 10 at 1 pm – Luncheon $65
WHERE: The Marker San Francisco, Bellevue Ballroom, 501 Geary Street (at Taylor)
MORE INFO: Maureen Barry, maureensbarry@gmail.com; 415-572-6646
---
The ILHS presents a wide array of leading scholars and accomplished writers at our monthly Speaker Series events.  Most talks are held on the last Sunday of each month, September through May, at the United Irish Cultural Center, 45th Avenue and Sloat Blvd., San Francisco, unless otherwise noted.  Events are $5 and free for members.  No reservations or advance purchase are required.