Sunday September 25, 2022 at 12pm noon PST via Zoom.
The ILHS is very pleased to present David Wilson, Professor of Celtic Studies and History at the University of Toronto who will give a talk on his new book entitled Canadian Spy Story: Irish Revolutionaries and the Secret Police. His book reveals the story of the Irish revolutionaries who set out to invade Canada and the secret police who tried to stop them. This talk will take place on Zoom on Sunday September 25, 2022 at 12pm noon PST.
In the mid-nineteenth century a group of Irish revolutionaries, known as the Fenians, set out to destroy Britain's North American empire. Between 1866 and 1871 they launched a series of armed raids into Canadian territory.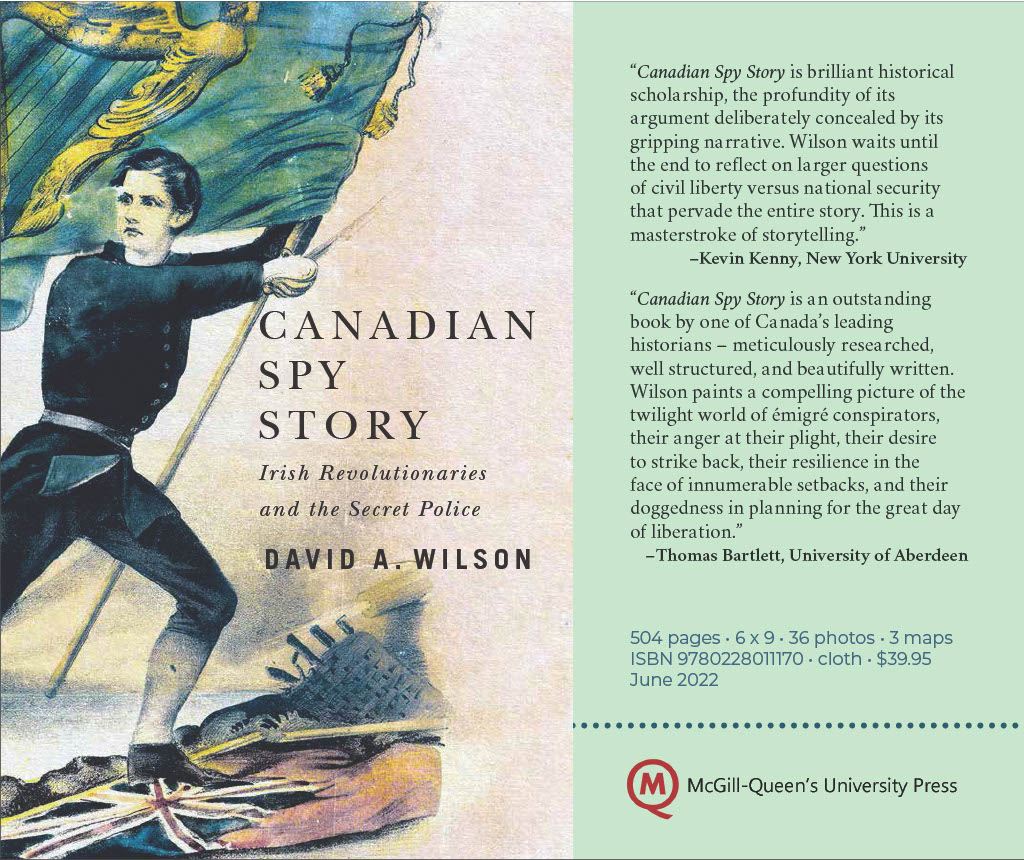 In Canadian Spy Story David Wilson takes readers into a dark and dangerous world of betrayal and deception, spies and informers, invasion and assassination, spanning Canada, the United States, Ireland, and Britain. In Canada there were Fenian secret societies in urban areas, including Quebec City, Montreal, Ottawa, and Toronto, and in some rural townships, all part of a wider North American network. Wilson tells the tale of Irishmen who attempted to liberate their country from British rule, and the Canadian secret police who infiltrated their revolutionary cells and worked their way to the top of the organization. With surprises at every turn, the story includes a sex scandal that nearly brought Canadian spy operations crashing down, as well as reports from Toronto about a plot to assassinate Queen Victoria.
Featuring a cast of idealists, patriots, cynics, manipulators, and liars, Canadian Spy Story raises fundamental questions about state security and civil liberty, with important lessons for our own time.
David Wilson is Professor, Celtic Studies and History, at the University of Toronto. He is a Fellow of the Royal Society of Canada, and the Royal Historical Society. His varied works include his first books which focused on the Atlantic Revolution; from there, he moved to the study of the Irish in Canada, culminating in a two-volume biography of Thomas D'Arcy McGee. His most recent book discusses the origins of the Canadian secret service and its operations against Irish revolutionaries, and he is currently examining the relationship between Irish migration, race and colonialism. Along the way, I has also written books on traditional Irish music and on the history of the future.
Please see Zoom information below:
https://us02web.zoom.us/j/87268122113
Meeting ID: 872 6812 2113