On Pioneering Aviator Daniel Maloney.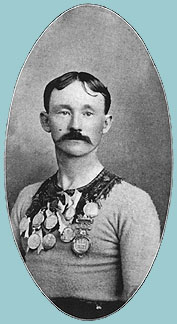 Evelyn Rose, Project Director and Founder of the Glen Park Neighborhoods History Project, shared the amazing life story of Irish American San Francisco aviation pioneer Daniel John Maloney, ancestor of a well-known family in Noe Valley, who began his career as an aeronaut performing at the pleasuring grounds known as Glen Park and the Mission Zoo.
We learned about Maloney's transition from Victorian extreme sport athlete to test pilot in the early days of flight discovery. We'll also be introduced to Professor John J. Montgomery of Santa Clara College (today's Santa Clara University), a graduate of San Francisco's St. Ignatius College. Montgomery's flight innovations and achievements have largely been erased from mainstream history, primarily through the gaslighting efforts by no less than the Wright Brothers and their supporters.
Evelyn Rose, PharmD, moved to San Francisco in 1978 and has been a resident of Glen Park and Diamond Heights in the heart of the City for nearly 30 years. Her interest in historic research began 20 years ago while investigating the life story of two sisters buried in the 1880s on a barren, wind-swept hill in Yellowstone National Park.
Evelyn founded the Glen Park Neighborhoods History Project (GPNHP, www.GlenParkHistory.org) in 2014, covering Glen Park, Glen Canyon Park, Sunnyside, Fairmount Heights, and Diamond Heights.  Evelyn serves as Project Director of the GPNHP and continues to research the forgotten histories of the district.
Sunday, February 24 at 5pm at the United Irish Cultural Center
Emer Martin's The Cruelty Men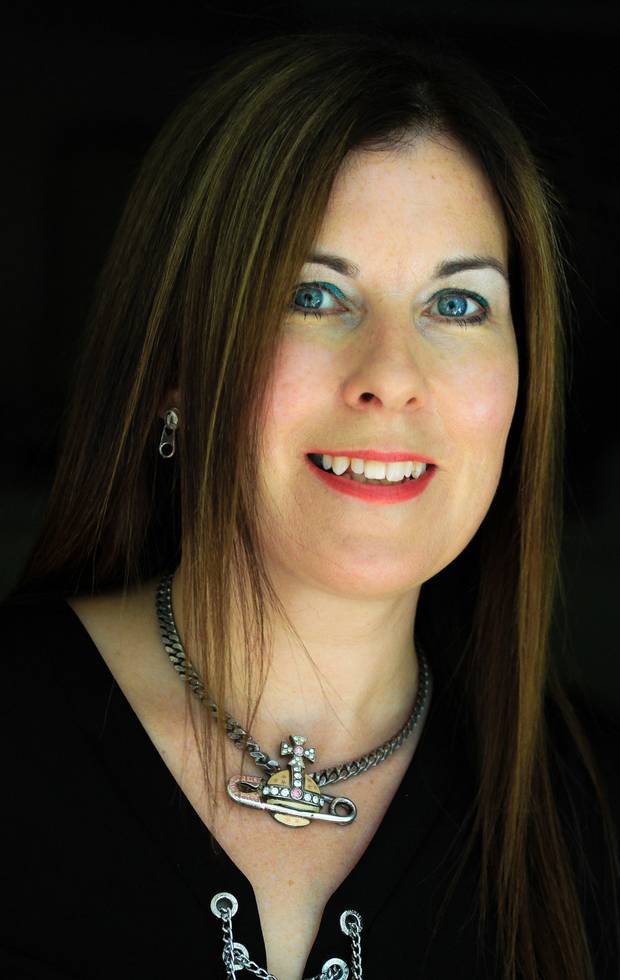 On January 27th, we presented writer Emer Martin, who spoke about her widely acclaimed new novel The Cruelty Men.
The Cruelty Men is a sweeping multi-generational view of an Irish-speaking family who moved from Kerry to the Meath Gaeltacht and the disasters that befall their children in Irish institutions. Abandoned by her parents when they resettle in Meath, Mary O Conaill is faced with the task of raising her younger siblings alone. Padraig is disappeared, Bridget escapes and her brother Seamus inherits the farm. Maeve is sent to work as a servant to a family of shopkeepers in the local town—later, pregnant and unwed, she is placed in a Magdalene Laundry where her twins are forcibly taken from her.
Martin's mother and baby homes and Magdalene Laundries are the Irish cousins of Dostoyevsky and Solzhenitsyn's Gulags; her dispassionate depiction of the ordinary psychotic violence at the heart of families and society in rural Ireland is akin to that of Ferrante's Naples. In this novel, two Ireland's run in stark parallel. A gentle country of fairy rings, blackberry picking, and poker evenings with the local priest masks a system in which the Church and State incarcerate the vulnerable for profit. The intimacy of the first person accounts draws the reader into the world of each character. Their stoicism makes their suffering all the more moving and dignified.
The book has received rave reviews in Ireland and the US.  Here is a recent review from the Dublin Review of Books: https://bit.ly/2OSlU5K
Emer Martin is a Dubliner who has lived in Paris, London, and the Middle East and in many places in the United States. She fled Ireland at age 17, finding it to be insular and oppressive, and began to wander through Europe.
Her first novel Breakfast in Babylon won Book of the Year 1996 in her native Ireland at the prestigious Listowel Writers' Week.  More Bread Or I'll Appear, her second novel was published internationally in 1999.
Her third novel Baby Zero, was published in the UK and Ireland March 07, and released in the U.S. 2014. She released her first children's book Why is the Moon Following Me? in 2013. Pooka is a Halloween book for children released in 2016. Her latest children book The Pig who Danced was released in 2017.
She completed her third short film "Unaccompanied". She produced Irvine Welsh's directorial debut "NUTS" in 2007. Emer was awarded the Guggenheim Fellowship in 2000. She now lives between the depths of Silicon Valley, CA and the jungles of Co. Meath, Ireland.
This event will take place on Sunday, January 27 at 5pm at the United Irish Cultural Center, 45th Avenue and Sloat Blvd.
The event is free for members and $5 for non-members.
Sunday, November 18 – Claudia O'Callaghan on "Klondike Mike, an Alaskan Odyssey"
Longtime ILHS member Claudia O'Callaghan presented a talk titled  "Klondike Mike, an Alaskan Odyssey".
This year marks the 120th Anniversary of the Klondike Gold Rush, which consisted of three movements: The Klondike Rush (Yukon Territory) 1896 -1899, the Nome Rush (1899 – 1909) and the Fairbanks Rush (1903-1911).  Claudia O'Callaghan, a long-time ILHS member, recounted the history of a family member who participated in all three.
Michael Ambrose Mahoney, (aka Klondike Mike) the son of Irish immigrants, was a Paul Bunyan-type figure: a boxer and "high kicker", an itinerant lumberjack, a master dogsled musher, and a gold prospector who eventually struck it rich in the gold fields and in later life became a well-known public speaker.
O'Callaghan described two of his most famous exploits: carrying a piano on his back up the 33 mile Chilcoot Pass, and bringing the body of the deceased mayor of Seattle through 400 miles of unexplored Alaskan territory by dog sled during the dead of winter while trailed by wolves.
Sunday, October 28 – Dan McGovern on "Eugene O'Neill and Ireland"
Eugene O'Neill, the only American to receive the Nobel Prize for Literature, told his son Eugene, Jr., that "The one thing that explains more than anything about me is that I'm Irish. And, strangely enough,' he complained, "it is something that all the writers who have attempted to explain me and my work have overlooked."
Dan McGovern, the president of the Eugene O'Neill Foundation, Tao House gave a talk that attempted to remedy that oversight. He explored O'Neill's Irish heritage, the influence of the Irish Players of the Abbey Theatre on the young playwright, and the reception in Ireland of O'Neill's work during his lifetime and today.
McGovern drew upon the research he conducted for his article "Eugene O'Neill's Place in Irish Theater Today: Interviews with Irish Theater Scholars," which appears in the latest issue of The Eugene O'Neill Review published by the Pennsylvania State University Press. His insights will also be informed by his co-chairmanship of the inaugural Eugene O'Neill International Festival of Theatre to be held in New Ross, Ireland, October 11–14, 2018.
Dan McGovern served in three presidential administrations as a senior government official, with the State Department, the National Oceanic and Atmospheric Administration (NOAA), and the U.S. Environmental Protection Agency (EPA) in the western United States. Dan also served in state government for 25 years. Among other positions, he was general counsel of Caltrans, the California Department of Transportation.
In retirement, Dan's avocation is theater. He is the president of the board of the Eugene O'Neill Foundation, Tao House, in Danville and co-chair of the Eugene O'Neill International Festival of Theatre in New Ross, Ireland. Dan is also a Visiting Research Scholar in the Department of Theater, Dance, and Performance Studies at the University of California, Berkeley. His scholarly articles have appeared in the Eugene O'Neill Review published by the Pennsylvania State University Press, and an article of his will soon appear in the Arthur Miller Journal, also published by the Pennsylvania State University Press
Sunday, September 30 – Carl Nolte on his life and career in San Francisco – "From Portrero Hill to Fifth & Mission"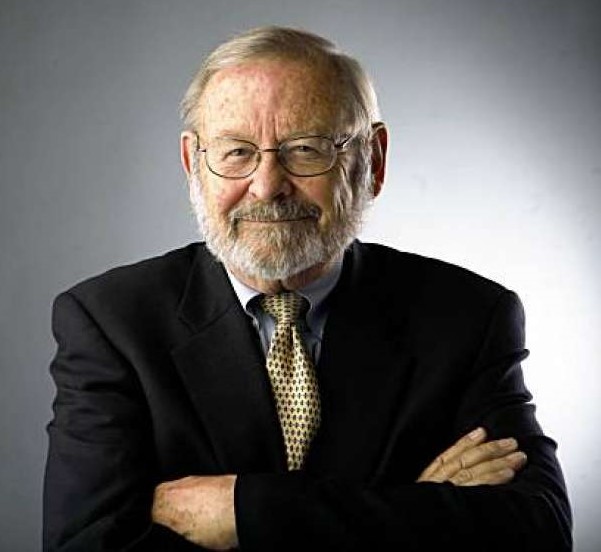 Carl Nolte began his long journalistic career in San Francisco in 1961. Since then he has observed and reported on some of the biggest news stories in the City of his birth. He now serves as the senior journalist at the San Francisco Chronicle, where he contributes a dweekly Native Son column. Nolte, who was raised on Portrero Hill and attended elementary and high school at St. Peter's in the Mission, will speak on his San Francisco life, from the Hill to 5th an Mission, with focus on the Irish American and other ethnic communities of the City, the major stories of the many eras that he covered City life, and the changes in the City that he sees in the present day.
Sunday, May 20 – Tony Bucher on "Archie Bunker's Chair – Media Images and Social Realities of Irish America from the 1960s and 1970s"
Powerful and largely unflattering images of the Irish American community were fixed in the news and popular culture in a particularly turbulent passage in American history from the late 1960s through the 1970s.  Certain Irish Americans came to represent the forces of reaction in American society at the very apex of a period of intense social activism and racial, inter-generational, and class conflict.
The critical view of Irish Americana finds expression in such venues as Salon, where cultural critic Andrew O'Hehir published an unfortunate St. Patrick's Day 2014 op-ed entitled "How did my fellow Irish-Americans get so disgusting?"  Broader themes critical of the Irish American experience were expressed in Noel Ignatiev's unsympathetic 1995 volume How the Irish Became White.
A survey of American political and cultural history of the 20th Century reveals a somewhat more complicated picture, with Irish Americans among the most instrumental figures on the 'progressive' side as well as amply represented in the cultural ferment of the era.  
This talk reconciled these various views and images of Irish Americana with the broader experience of the Irish community in America in the 20th Century, with a view towards establishing a more balanced and sustainable perspective on Irish America as a whole.  
Sunday, April 15th – Chinese Consul General Luo Linquan and Irish Consul General Robert O'Driscoll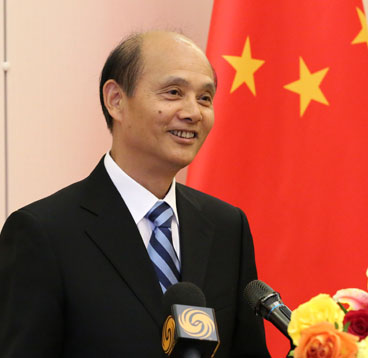 Experiences of Chinese Diplomat Luo Linquan in Dublin and San Francisco, co-sponsored with Crossroads Irish American Festival and the Chinese Historical Society of America. Consul Luo Linquan spoke about his experiences as Ambassador of the People's Republic of China to Ireland and as Chinese Consul General in San Francisco, as well about major contributions of Chinese workers to the construction of the first Transcontinental Railroad in the US.  Irish Consul General Robert O'Driscoll offered his remarks on the bilateral relationship from the Irish perspective.  

For more information, see the following extract from the 2005 Irish Literary & Historical Society book, The Irish in the San Francisco Bay Area  (part two, Ethnicity and Troubled Ethnic Relations)
"California Clash, Irish and Chinese Labor: in San Francisco, 1850-1870″, by Daniel Meissner, Professor of History, Marquette University.
Sunday, March 11, 6:00pm – Annual St. Patrick's Banquet honoring Ed Callanan & featuring Mike Casey, President of the San Francisco Labor Council
Celebrating Ed Callanan's 50 years as ILHS Board Chairman, 1967-2017, and the contributions of long-time board members Eileen Kivlehan and Brian Whitty. Special Presentation "The Irish Legacy in San Francisco Labor" By Mike Casey, President of the San Francisco Labor Council. Entertainment by " The Irish Troubadours" Kyle Alden & Rory McNamara. See photos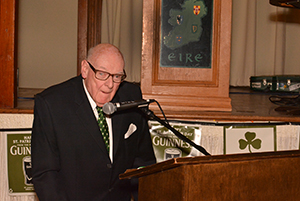 Sunday, February 25, 5:00pm – Hernando Torres-Fernandez, Consul General of Peru and Robert O'Driscoll, Consul General of Ireland: "The Soul of the Potato". 
The potato originated around Lake Titicaca in the High Andes of Peru and has been consumed by Andeans for 8000 years. Europeans first encounter with the potato was probably by Spanish Explorer Francisco Pizarro in 1502. The potato then traveled by a circuitous route first to Spain, then England around 1560 and on to Ireland and other countries before coming back across the Atlantic to the Virginia Colony in North America in 1621. Being so easy to plant and so nutritious, the potato spread around the world and is now a major security food in Russia, India, China and Africa. Hernando will describe the important research at the International Potato Center in Lima, where the cause and remedy of the potato blight of the Great Famine was discovered. An 8 minute film, "Potato Biodiversity", was screened.
Peruvian Consul General Hernando Torres-Fernandez has been blessed with a stimulating career in the Ministry of Foreign Affairs with embassy and consular postings in Finland, Sweden, Colombia, France, Italy and his home city of Arequipa, Peru. Hernando was appointed General Coordinator for the United Nations Year of the Potato in 2008.
Irish Consul General Robert O'Driscoll has also had fascinating postings, including as Irish Consul at the Kingdom of Saudi Arabia, Deputy Head of Mission at the United Arab Republic, Deputy Director, Trade Division II at the Department of Foreign Affairs, Ireland and served at Ireland's Permanent Representation to the EU in Brussels. Robert O'Driscoll spoke about the significant role of the potato in Irish history and its current status as a beloved successful staple and cultural icon.
Tom Clancy "Go, move, shift: Exploring Irish cultural changes through ten songs".
Sunday, January 28, 5:00pm – Independent scholar Tom Clancy explored the recent history of Ireland in his lecture titled "Go, move, shift: Exploring Irish cultural changes through ten songs".
Artists and their work can inspire, foreshadow or support cultural movements. Beginning in the 1960s, Ireland's folk and traditional music revival incorporated songs and music that were instrumental in changing attitudes and public perceptions. The changes involved significant Irish social and political concerns including recognition of Traveller's rights, confronting child abuse, continuing emigration, women's issues and their role in music, the Northern Ireland "Troubles" and our understanding of the achievements of Irish independence. The first four themes address groups that were historically mistreated or excluded from full opportunities of Irish life and the latter two explore larger political issues. Clancy discussed a number of key songs, their singers, writers and contexts in this multi-media presentation and explore how the songs contributed to a renewed sense of community and Irish identity.
Tom Clancy draws on over twenty-five years of experience writing about Irish music for publications in Ireland and the United States. His work has been published primarily in Irish Music Magazine in Dublin, the Irish Herald in San Francisco and on various websites including Irish Culture Bay Area. He has interviewed dozens of musicians and reviewed many live performances and recordings.
Micheline Sheehy Skeffington on Hanna and Francis Sheehy Skeffington, nationalists, pacifists, feminists, socialists: their role in early 20th century Ireland
Sunday, November 12, 5:00pm – NUI Galway Professor Emerita Micheline Sheehy Skeffington spoke on the US organizing activities and political legacy of her grandmother, Hanna Sheehy Skeffington, whose husband Francis was executed in the aftermath of the 1916 Easter Rising. Sheehy Skeffington  was a co-founder of the Irish Women's Franchise League in 1908 and determined advocate of the cause of Irish nationalism.  This year, 100 years since her grandmother toured the US,, Micheline Sheehy-Skeffington is retracing that tour and filming for a documentary to honor her grandmother's remarkable and little-remembered achievement.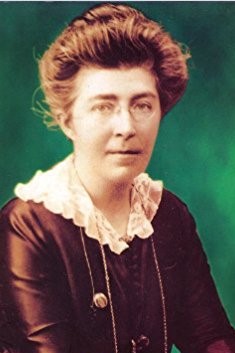 The title of the talk is "Hanna and Francis Sheehy Skeffington, nationalists, pacifists, feminists, socialists: their role in early 20th century Ireland".    Hanna and Francis Sheehy Skeffington were ardent nationalists, pacifists, socialists, feminists in early 20th century Ireland, fighting for justice and women's suffrage. They encapsulate some of the main ideals of the time. After Francis was shot without trial by a British officer during the Irish 1916 rebellion, Hanna embarked on an epic 18-month tour of the US to tell the truth about British brutality in Ireland. The illustrated talk will tell their story.
Dr Micheline Sheehy Skeffington recently took early retirement from the National University of Ireland, Galway, where she lectured in plant ecology. Her grandparents were Hanna and Francis Sheehy Skeffington, prominent Irish activists in the early 1900s. A strong feminist herself, Micheline won a gender equality case against her university and is still campaigning for justice for her female colleagues.
THE DUBLINERS DILEMMA with Declan Gorman
THE DUBLINERS DILEMMA – Sunday, October 29  – The Dubliners Dilemma is a one-man show adapted and performed by Declan Gorman, based on "Dubliners" by James Joyce.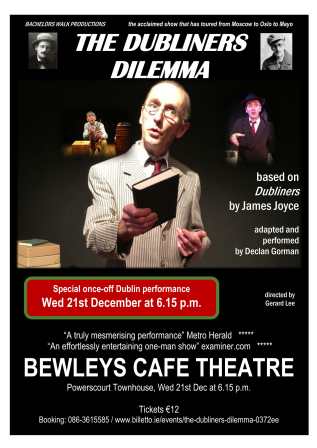 About the play
In 1914 the world stood on the brink of extinction. Yet the cause was not the outbreak of the war to end all wars. No, it was the possibility of James Joyce's classic collection of short stories Dubliners finally going to print after nine years searching for a publisher. A book so terrifying eighteen publishers ran from it. Printers refused to print it for fear of what it might unleash upon the world. But one man dared to look squarely at the dilemma Dubliners presented to him.
In The Dubliners Dilemma publisher Grant Richards is offered a chance at redemption having originally rejected the offending manuscript years before. Facing into a soul-searching struggle Richards must decide between publish and be damned and publish or be damned in this delightful treat.
Alternating between an array of real and fictional characters, including the maestro Joyce himself, Gorman's re-imagining of the moral and personal struggle Richards faced is wonderfully conveyed. If stakes are minimal, as we already know the outcome, the potential cost to Richards compensates somewhat and is something well worth being reminded of. Indeed, in a climate where certain college students are clamoring to have books banned for fear of their causing offence, the choices facing those who chose to resist moral outrage and censorship is beautifully positioned in this feather light work with a backbone of steel.
The San Francisco GAA (Gaelic Athletic Association) – Sunday, September 24  – Lecture and panel discussion on the storied history and thriving Irish sport leagues of the Gaelic Athletic Association (GAA), featuring incoming Irish Consul General Robert O'Driscoll and  San Francisco GAA Chairman Bertie Penny, and scholar and league official Liam Reidy.  The presentation was titled Gaelic Games and the Irish-American Experience in San Francisco.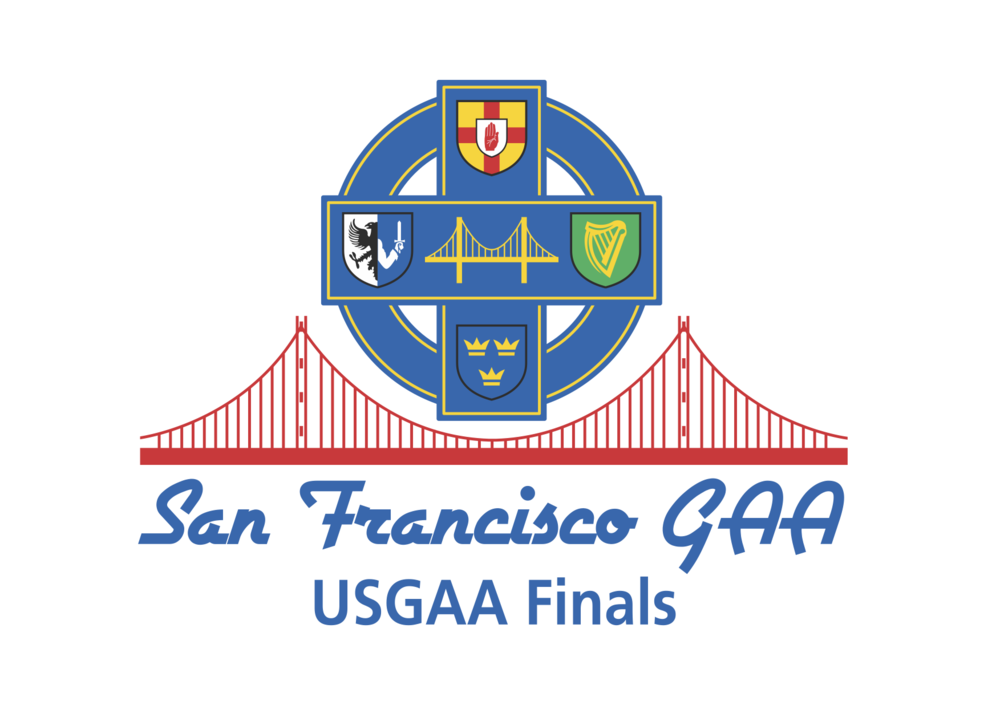 The lecture highlighted the history and growth of the Gaelic Athletic Association (GAA) in Ireland and the local Irish-American experience by the emigrants who have played Gaelic games in the San Francisco area since the Gold Rush.  The sporting life and history of Irish emigrants who played Gaelic games locally down through the years is an aspect of local Irish history that has rarely garnered any serious study.   The program included an exhibition of both new and old memorabilia, showcasing the large photographic collection in the local GAA archives.
Elizabeth Drew – May 21, 2017 on the presence of Ireland in the writings of Samuel Beckett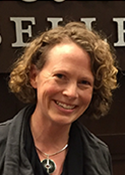 Trinity Ph.D. scholar Elizabeth Drew spoke on Samuel Beckett, one of the most acclaimed writers of the 20th century. He completed his undergraduate degree at Trinity College, Dublin, spent a decade traveling and working in Europe, and then settled in France for more than five decades. Most of his literary works were composed in French and self-translated into English. Although Beckett left Ireland, Ireland never left him. His relationship with the country of his birth was complicated, but its landscape, climate, and people were a continual presence in his work until his death. His ruminations on and dramatizations of memory, self, and consciousness are frequently set in the foothills of the Dublin mountains, along the sweep of Killiney Bay, and in the social vernacular of Irish life. This lecture will follow the trajectory of Beckett's work from his early adulthood in Dublin through his last writings, tracing the presence of his homeland throughout. It will offer some guidance for the casual reader to explore, and hopefully enjoy, Beckett's works, which are frequently labeled as bleak, enigmatic, and difficult.
Irish Consul General Philip Grant – April 23, 2017 on The Republic of Ireland and Brexit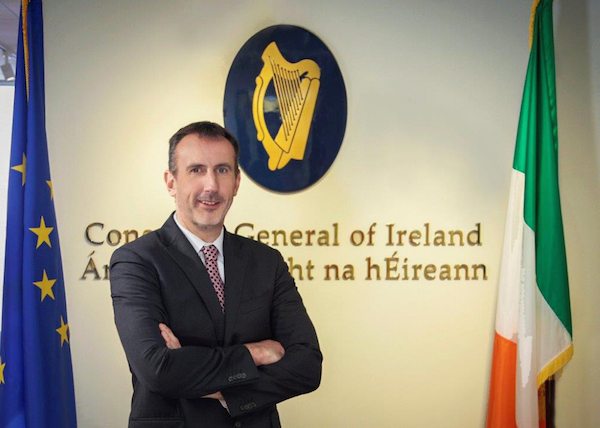 Irish Consul General Philip Grant spoke on Ireland and Brexit and the looming challenges facing Ireland's economic and political integration with Europe amidst her deep ties with the UK.  Consul Grant addressed many aspects of the situation and official responses as the circumstances continue to evolve.
The Saint Patrick's Banquet – March 19, 2017 featuring Harpist & Storyteller Patrick Ball and song and dramatic reading by Esther Mulligan with fiddler Anne Bingham Goess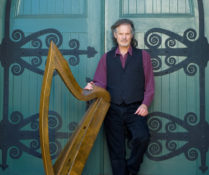 We were very pleased to present our annual St. Patrick's Banquet on Sunday, March 19 at the Saint Patrick's Ballroom in the United Irish Cultural Center.  The banquet this year featured a wonderful evening of fine dining and Irish music & drama, featuring Harpist and Storyteller Patrick Ball, along with song and dramatic reading by Esther Mulligan and Fiddler Anne Goess.
Matthew Spangler – February 26, 2017  – "Walking in the City: A Kurdish Asylum-Seeker's Arrival in Dublin"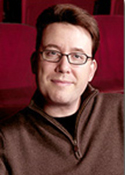 Professor of Performance Studies at San Jose State University, ILHS Vice President, and successful playwright Matthew Spangler spoke about interviews he has conducted with a Kurdish asylum-seeker and now refugee living in Dublin, Ireland.  A former member of the PKK – the Kurdish separatist organization, labeled a terrorist group by the U.S. and many Western European countries – he left Iran because, as he put it, he was too "old to be fighting and living in the mountains anymore."  Eventually he ended up alone and wandering the streets of Dublin, which he initially took to be Toronto.  In Ireland he requested asylum and, after five years of hearings, rejections, threatened deportations, and appeals, was awarded refugee status.  This presentation will focused on his first morning in Dublin, and subsequent application for refugee status.
Elizabeth C. Creely – January 29, 2017 on Republican Daniel Harnedy and the Sinn Fein Shoe Store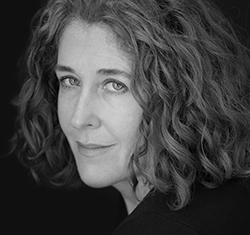 Community historian Elizabeth C. Creely spoke about her research on the history of the Irish community of San Francisco's Mission District, focused on Republican Daniel Harnedy and the "Sinn Fein Shoe Store.   In March, 2016 Elizabeth produced a walking tour for the festival, entitled  "Walking the Rebellion: Irish-Americans and the 1916 Easter Rising in the Mission District", which explored and examined Irish and Irish American culture at home, and in meeting halls, churches and places of business within the Mission District.
---
 Charlotte Headrick – November 20, 2016 on Irish Women Dramatists
Charlotte Headrick, Professor Emerita of Theatre Arts at Oregon State University presented from her new book, Irish Women Dramatists 1913-2001   (co-edited with Eileen Kearney), the first anthology of Irish women playwrights that is firmly grounded in the history of twentieth-century Irish theater and the social history of modern Ireland.
---
Fran O'Rourke – October 30, 2016 on Irish Songs of James Joyce
 
Fran O'Rourke, Professor Emeritus of Philosophy, University College Dublin presented Irish Songs of James Joyce, during which he performed songs which were central to Joyce's creative work.  The audience joined in singing some of Joyce's favourite Irish songs, with texts and references inside of Joyce's works provided.
---
Liam Cunningham – September 25, 2016 on the State of the Irish Language 1916 – 2016

Liam Cunningham, a founding director of the the Oideas Gael school, is internationally known for his innovative approaches to language learning.He is a well-known language activist and recently completed his second of two terms, totaling ten years, as Cathaoirleach (Chairman) of Údarás na Gaeltachta, the agency responsible for the cultural and economic wellbeing of the Gaeltacht regions nationally.  Cunningham spoke about the evolution of the Irish language over the many years of colonization and suppression, and the many challenges facing the language since the establishment of the Republic, and the prospects for the future.
---
David Brundage – Sunday May 22, 2016 on Irish Nationalists in America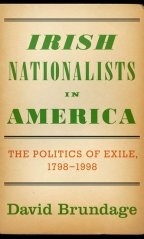 UC Santa Cruz Professor David Brundage spoke from highlights of his new book titled Irish Nationalists in America, The Politics of Exile, 1798-1998 just released by Oxford University Press.
In this important work of deep learning and insight, Brundage gives us the first full-scale history of Irish nationalists in the United States. Beginning with the brief exile of Theobald Wolfe Tone, founder of Irish republican nationalism, in Philadelphia on the eve of the bloody 1798 Irish rebellion, and concluding with the role of Bill Clinton's White House in the historic 1998 Good Friday Agreement in Northern Ireland, Brundage tells a story of more than two hundred years of Irish American (and American) activism in the cause of Ireland.
---
Matthew Horton – April 24, 2016 on "The Gravesite of Thomas Desmond, legendary Fenian and veteran of the Fremantle Mission"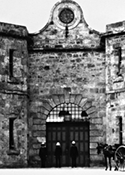 UC Berkeley scholar Matthew Horton spoke about "The Gravesite of Thomas Desmond, legendary Fenian and veteran of the Fremantle Mission".  His talk addressed the social and political history of the Irish Republican movement in California through the gravesite of Thomas Desmond, legendary Fenian and veteran of the Fremantle Mission. He considered the historical context of nineteenth century Irish California and the development of the Fenian movement here, Desmond's early life in California, his participation in the famous jailbreak, his thirty year political career in San Francisco that followed, his legacy, and the centrality of his grave as a site for commemorating the Easter Rising today.
---
Annual St. Patrick's Banquet – March 13, 2016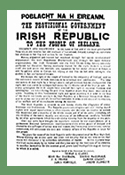 One the 100th anniversary of the Easter Rising, UC Berkeley Professor Emeritus Robert Tracy spoke about the Easter 1916 Proclamation of the Irish Republic as both a work of literature written by poets and as a political document modeled on the U.S. Declaration of Independence, emphasizing civil rights, women's suffrage, and independence from foreign rule.
"Poetry and Politics: The 1916 Proclamation of the Irish Republic" included performances by musicians Kyle Alden singer and Catherine John.
---
 Ethel Rohan – February 28, 2016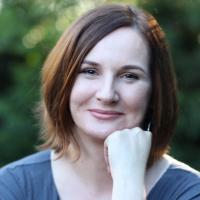 Novelist Ethel Rohan, a Dublin native and San Francisco resident, presented passages from her debut novel, The Kingdom Keeper, will publish from St. Martin's Press, 2017. She is also the author of two story collections, Goodnight Nobody and Cut Through the Bone, the former longlisted for The Edge Hill Prize and the latter longlisted for The Story Prize. An award-winning story and memoir writer, her work has appeared in The New York Times, World Literature Today, PEN America, Tin House Online, Guernica Magazine, BREVITY Magazine, The Rumpus, and more.
---
Tony Bucher – January 31, 2016  on "Old Saint Mary's – San Francisco's Irish Monument"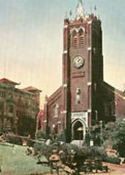 ILHS President Tony Bucher spoke on San Francisco's Old Saint Mary's Cathedral, which served as a key seat of institutional power in the early development of the City and the greater West, and as an important focus of community for a significant portion of the population, for generations.
Beyond the story of the church itself and its features and biographical details, Old Saint Mary's has broader significance as a metaphor for a history nearly unknown in the City the Irish helped build, with the remains of Kathleen Sullivan, the Irish benefactor, interred in the basement of her Irish church, hidden in plain sight.
---
Kathleen Walkup – November 22, 2015 on "Pulling the Devil by the Tail: Cuala Press, Elizabeth Corbet Yeats and the Ghost of Albert Bender"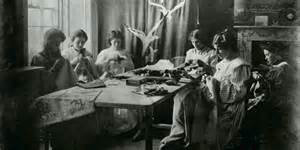 One of the more iconic images in the history of printing is that of Elizabeth Corbet Yeats, dressed in a long smock, printing at an Albion handpress. Behind her a woman is preparing to ink the press; in front of her another woman sits at a table reading proofs. The image is often seen as an example of the genteel art of amateur printing by the 'ladies', part of the move toward finding ways for the privileged women of the Arts & Crafts era to keep themselves occupied. In fact that reading could not be further from the truth.
In 1902 Elizabeth became a printer and proprietor of what would become Cuala Press, an Irish private press whose editor was her brother, William Butler Yeats. In 1922, Elizabeth began a correspondence with the Irish-American collector Albert Bender. This correspondence lasted until her death in 1940. Some fifty-five letters from Elizabeth to Bender have survived and are housed at Mills College. This talk will examine the history and legacy of Elizabeth Corbet Yeats and Cuala Press, with a particular focus on her correspondence with Bender. The paper will also draw on research at the National Library of Ireland, Trinity College Dublin and Boston College.
Kathleen Walkup is Professor of Book Art and Director of the Book Art Program at Mills College, where she teaches typography and letterpress printing, artists' bookmaking and seminar/studio courses that combine print culture and book history with studio projects. She is also Book Art Director for the MFA in Book Art & Creative Writing, the first such program in the country.
---
Clare Moriarty – October 25, 2015 on "Berkeley's Marvelous Mathematics"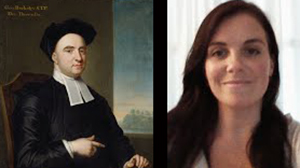 Clare Moriarty, doctoral candidate at King's College, London, and a visiting scholar at UC Berkeley spoke on "Berkeley's Marvelous Mathematics".  George Berkeley is undoubtedly Ireland's most celebrated philosopher, but his role in the history of mathematics is less renowned. In a heated debate between the British and Continental academies over who truly invented calculus (between Newton and Leibniz), Berkeley's contribution was to publicly scorn the intelligibility of the theory. The speakers interest is in Berkeley's unusual motivation in these attacks, which seem to be the result of learning that certain mathematicians had been ridiculing religion on the basis of its 'unintelligible' ideas. Despite majority agreement that Berkeley's mathematical criticism was correct, and instrumental in guiding the project of fixing early calculus, the question remains as to whether Berkeley cared more about sticking his finger in people's eyes than he did about the mathematics.
---
Philip Mullen – September 27, 2015 on "Mr Bloom's Potato"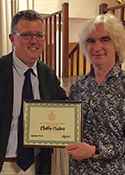 Some things you could not be expected to know and other things that are just plain 'wrong' in Joyce's Ulysses"
It is well known that James Joyce was meticulous in researching the details for the recreation of his beloved Dublin in Ulysses, but even the great writers sometimes get it wrong. "Mr. Bloom's Potato" is a light-hearted look at a some of Joyce's mistakes and a few hidden details that his readers could not possibly have been expected to notice. Such as: Who is Parnell's brother's unnamed chess opponent? How could Joyce, of all people, get the two Dublin canals confused, and what is Mr. Bloom doing with that potato? Speaker Philip Mullen is Dublin-based independent scholar.
---
2015 Bloomsday Celebration – June 16, 2015

14th Annual Bloomsday Celebration: Re-Joyce in the Stacks Muses, Music and Dramatic Readings from James Joyce's Ulysses.
Sojourn though the streets of Dublin with Leopold Bloom and other characters featured in James Joyce's quintessential novel Ulysses and other works. The evening includes dramatic readings and song performed by Bruce Bierman, John Ilyin, Esther Mulligan, Melanie O'Reilly, Josiah Polhemus, and Laura Sheppard. Fiddler Anne Goess is joined by flutist Jason Pollack and guitarist Will Wheeler, who offer lively accompaniment with a selection of traditional and well known Irish music. Mechanics Institute, San Francisco
---
Steven Fidel Herraiz – May 17, 2015 on "San Francisco's Lost Irish Hill"
The Irish Literary & Historical Society welcomes Local historian Steven Fidel Herraiz who will discuss Irish Hill a lost Irish neighborhood (c. 1860-1918) near SF's shipyards.
This neighborhood was known for its infamous saloons, bare-knuckled boxing matches, and boarding houses. Steven brings it all to life with his research, archived news clippings and photographs.
---
Sarah Townsend – April 26, 2015 on "Miracles of Development: From Irish Pigs to Celtic Tigers"
Professor Townsend discussed "Miracles of Development: From Irish Pigs to Celtic Tigers" a lighthearted and erudite exploration of representations of the animals applied to the Irish from the 19th century through the recent economic crisis. This talk examined Patrick McCabe's 1992 novel The Butcher Boy and Enda Walsh's 1996 play Disco Pigs, arguing that the two works deploy and upturn pig stereotypes in order to critique late twentieth-century Irish gentrification.
---

St. Patrick's Banquet – March 8, 2015
The St. Patrick's Banquet – presenting the music of Aodh Óg Ó Tuama & Christy Martin of Four Shillings Short and a dramatic reading of the works of early 20th Century humorist Finley Peter Dunne. Produced and performed by Myles Dungan and Professor Glen Gendzel.
---
Catherine Duggan – February 22, 2015 on "The Lost Laws of Ireland"
Author Catherine Duggan on the Brehon Laws.Catherine Duggan, attorney and historian of Irish law will discuss her book The Lost Laws of Ireland, How the Brehon Laws Shaped Early Irish Society. Brehon Law was the legal system that governed Irish society for over 1000 years. Since there was no central authority, the Brehon Laws were enforced by the community. They reflect a culture that sought to ensure fairness and harmony in a hierarchical warrior society.
---
David Hirzel – January 25, 2015 on the Rough Weather All Day, An Account of the Jeannette Search Expedition by Patrick Cahill
Author and historian David Hirzel will speak about his new book Rough Weather All Day, An Account of the Jeannette Search Expedition by Patrick Cahill. This book concerns the life of an Irish-born seaman, Patrick Cahill, who served on board the U.S.S. Rodgers which left San Francisco in June 1881 to go in search of the missing Arctic exploration ship Jeannette.